The city of the Leaning Tower
Pisa is the city of the Leaning Tower, one of the most famous monuments in the world, an indisputable symbol of Italy.
Set in the wonderful Piazza dei Miracoli where, on the intense green of the grass, the Cathedral of Santa Maria Assunta stands out, together with the Baptistery and the Monumental Cemetery, so the Tower is a sort of visiting card for a city that has so much to offer.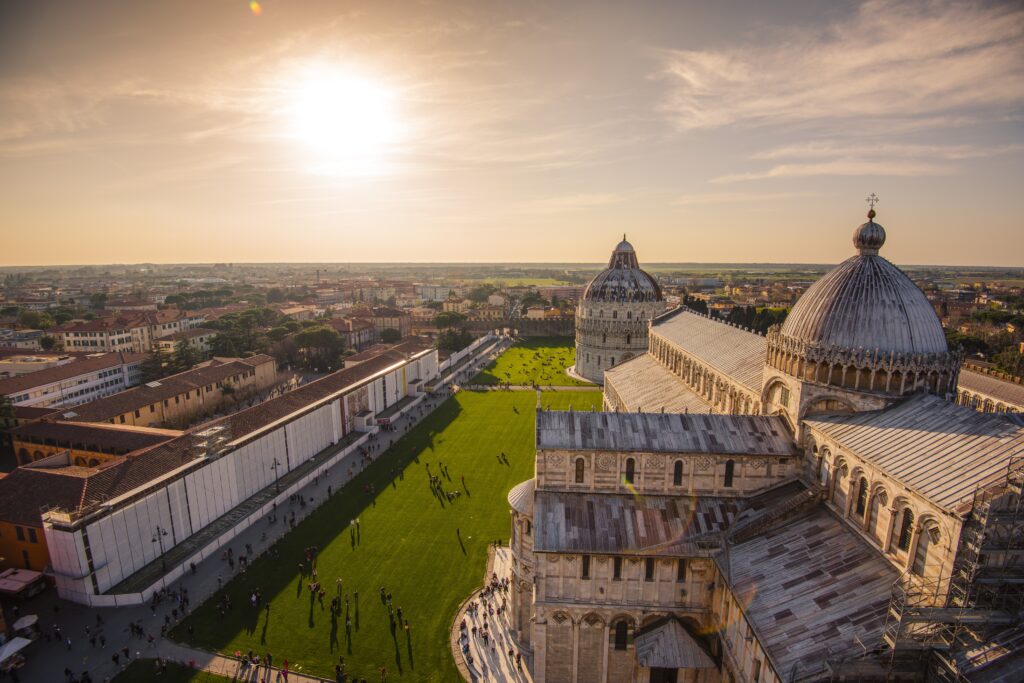 Nestling on to the two banks of the Arno River, with it centre made up of narrow lanes, medieval tower-houses, splendid Renaissance 'palazzi' and churches in the Romanesque and Gothic architectural styles, it is a vivacious and fascinating city.. 
To the north of the river, in an area called 'Tramontana', lies Borgo Stretto with its traditional covered walkways, the 'portici', Piazza delle Vettovaglie which still houses the fruit and vegetable market as well as local restaurants, and the Piazza dei Cavalieri. Here is the church of the same name, the Palazzo Carovana – main seat of the 'Scuola Normale Superiore di Pisa', and the tower of Conte Ugolino which was described in detail in Dante Alighieri's Divina Commedia.
To the south, in the area called 'Mezzogiorno', along the Arno Embankment, you can see the 'Palazzo Blu' – an exhibition centre that every year is home to international ad important exhibitions dedicated to contempoary art, and the Gothic church of 'Santa Maria della Spina'. Entering Corso Italia – the main road with shops and boutiques – you reach the Piazza Vittorio Emanuele II, where you can admire 'Tuttomondo', the mural painting made by Keith Haring in 1989 on the outside walls of the Church of S. Antonio Abate's vicarage.
Not to be overlooked is the National Museum of San Matteo, dedicated to the Middle Ages, with paintings, wood sculptures and ceramic bowls, as well as the National Museum of Palazzo Reale once inhabited by the dynasties of the Medici, the Lorraine and the Savoy families.
Info www.turismo.pisa.it